First Apple computer, the Apple-I, could fetch $242K at auction
(Read article summary)
First Apple computer started a tech revolution. And now, for a couple hundred thousand bucks, you can get your hands on the Apple-I.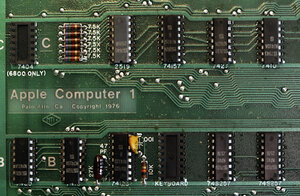 Newscom
More than 34 years ago, in July of 1976, a small California company called Apple released its first computer. The Apple-I, which was designed and built by Apple co-founder Steve Wozniak, featured 4KB of memory, and a fully-functioning circuit board. According to one source, Wozniak originally wanted to charge $777.77 for the machine, but his partner, Steve Jobs, convinced him to drop the price tag to $666.66. Wozniak complied.
The rest – from the early Macintosh desktops to the top-of-the-line MacBook Airs, which pack as much punch in their pinkies as the Apple-I did in its entire body – is history. And now you can get a piece of that history. Later this month, the auction house Christie's will put a vintage Apple-I on the block, complete with a "few slightly later additions." Among the "additions," according to Christie's:
---
Follow Stories Like This
Get the Monitor stories you care about delivered to your inbox.