Assassin's Creed: Brotherhood review roundup
(Read article summary)
Assassin's Creed: Brotherhood review posts are in. They say this newest entry may be the best Assassin's Creed yet.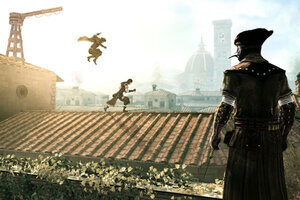 Newscom
Assassin's Creed: Brotherhood, the latest installment in the popular Assassin's Creed franchise, hits the Xbox 360 and PlayStation 3 this week, just in time for the holiday rush. So how does Brotherhood stack up to its predecessors? Well, for one, unlike previous Creed games, Brotherhood allows you to recruit a small cabal of fellow Assassins, and wreak havoc and mayhem around the towers of medieval Rome.
Over at Canada's National Post, Daniel Kaszor says the recruiting format – which gives the game its suffix – can be a blast. "It's hard to overstate how awesome it feels to be outmatched by a group of Templar guards and to call in an assassination strike with the press of one button," he writes. But gamers should take care, Kaszor stresses: Once a member of your brotherhood dies, he or she is dead for good.
---