The Beatles on iTunes: What does it mean for the remaining holdouts?
(Read article summary)
The Beatles make a (belated) debut on Apple iTunes. But acts such as Kid Rock, Garth Brooks, and AC/DC remain proud iTunes refuseniks.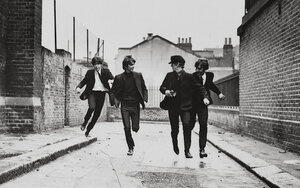 Newscom
It's a done deal: The Beatles are coming to iTunes. As of this morning, 16 albums worth of Beatles music was available on Apple's online marketplace, along with a $150 box set, comprising every studio record released by the Fab Four. The agreement appears to be the result of protracted wrangling between EMI, the label that houses The Beatles, and reps for Apple.
The question now is whether the decision to bring The Beatles to iTunes will provide some impetus to the other holdouts – a group that includes AC/DC, Kid Rock, Garth Brooks, and Bob Seger. Speaking to the UK Telegraph, AC/DC guitarist Angus Young maintained that iTunes facilitates a music-listening experience at odds with the AC/DC aesthetic.
---