WikiLeaks mirror sites: A new lease on life for WikiLeaks
(Read article summary)
WikiLeaks mirror sites ensure that it will be very difficult – if not impossible – to ever scrub WikiLeaks from the Web.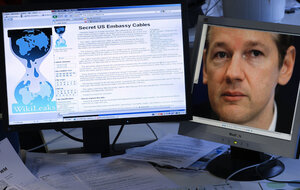 Newscom
WikiLeaks lists its location on Twitter as "Everywhere" – a bold claim, considering the intense fire the organization has come under in the past week. Amazon, PayPal, Visa and MasterCard all recently severed ties with WikiLeaks, first leaving the site server-less, and then restricting the ways in which supporters can donate to WikiLeaks and its founder, Julian Assange.
But even as Assange faces extradition from London – on sex crimes charges – WikiLeaks lives on through a constantly mutating network of mirror sites.
"WikiLeaks now has 355 sites. Thanks to YOU," WikiLeaks wrote in a Twitter message on Sunday. That number has fluctuated, as some sites are dismantled and others spring up in their place, but one thing is clear: It will be exceptionally difficult, if not impossible, to ever scrub WikiLeaks from the Web.
---