Sony comes down hard on PS3 hackers
(Read article summary)
Sony has filed suit in US District Court, in an attempt to stop PS3 hackers from breaking in the gaming console.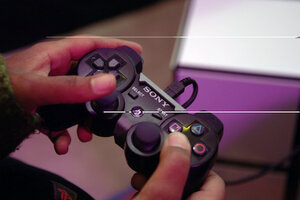 Newscom
Last week came news that hackers had successfully busted into the Sony PlayStation 3, effectively allowing users to create and load their own software onto the PS3. "The complete console is compromised – there is no recovery from this," pytey, a member of the fail0verflow band of hackers, told the BBC. "This is as bad as it gets. Someone is getting into serious trouble at Sony right now."
Fail0verflow, the BBC reported, claims to have developed the hack so it could create community-written software on the high-powered PlayStation 3.
Today comes news that Sony has filed a lawsuit against several members of fail0verflow and George Hotz, a well-known American hacker who published details of the PS3 jailbreak on his blog. The defendants, Sony lawyers argue, have "circumvented effective technological protection measures" employed by Sony to "protect against unauthorized access to and/or copying of... PlayStation 3 computer entertainment systems."
---