Angry Birds cartoon on the way
(Read article summary)
Angry Birds is already a video game – and a board game. And soon, Angry Birds will be a cartoon.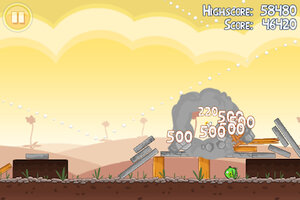 Newscom
Angry Bird fanatic? And there are millions of you out there. Sick of tapping furiously on your handheld? Well, then you may be happy to learn that Rovio, the makers of the amazingly popular game (which stars a bunch of flying birds that... oh, we'll let actor Jon Hamm explain it) is bringing Angry Birds to television.
"We have been looking at [TV] for quite a while, and that is definitely one of my personal big focus areas right now – to work on broadcast content for 'Angry Birds,' " Rovio CEO Mikael Hed told the TV site C21media.net, according to the New York Post. Hed added that the Angry Birds cartoon is now ready for production, which could mean that the program will hit screens sometime this year.
ALSO SEE: Does Call of Duty: Black Ops redefine "blockbuster"?
---