Google Offers: Can Google out-coupon Groupon?
(Read article summary)
Google Offers is reportedly set to go head-to-head with voucher sites such as Groupon and LivingSocial. But to succeed, Google will have to play catch-up – and fast.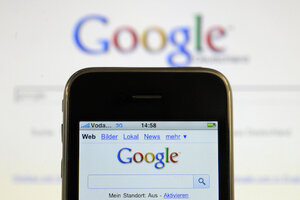 Newscom
Google Offers – the name doesn't exactly roll off the tongue. But it does look like Google is close to pushing live its own deal-of-the-day service, presumably in an effort to replace Groupon in the hearts and minds of thrifty consumers everywhere.
According to Mashable, which obtained a "confidential fact sheet" on the new Google project, Google Offers "looks and operates much like Groupon or LivingSocial."
In other words, Google Offers users will sign up to receive regular emails about upcoming deals. Once a certain number of users have signed up for one of the deals, vouchers are issued; however, if the quota is not reached, no one gets a voucher, and everyone goes home sad. Groupon, which launched in 2008, has raked in many, many millions using this model, and there's no reason why Google – with its sizable Web footprint – couldn't do just as well.
---