PSP 2: Will the next Sony handheld be powered by 3G?
(Read article summary)
PSP 2, the purported successor to Sony's popular PSP gaming device, could get a 3G antenna.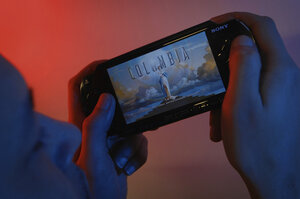 Newscom
Last time we heard a burst of buzz about the Sony PSP 2, the (presumably) forthcoming device was circulating through of the offices of a top video game developer. Now comes news that the PSP 2, which will replace the aging Sony PSP device, could get a juiced-up processor, an OLED screen, and a 3G antenna, allowing users to get online even if they're far from a Wi-Fi connection.
According to the Japanese paper Nikkei – hat tip to PC World for translating the original report – the PSP 2 will utilize the same kind of Cell chip as the PlayStation 3, and come equipped with a big old OLED display. As PC World notes, Sony has a big event scheduled in Japan this week, and odds are pretty good that we're going to see some sort of PSP 2 roll-out.
---