Mark Zuckerberg Facebook account hacked
(Read article summary)
The Mark Zuckerberg Facebook fan page was hacked this week. So who is the mysterious prankster that managed to steal Mark Zuckerberg's identity?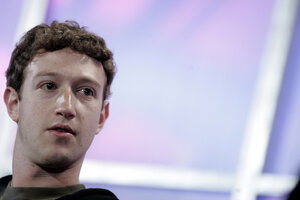 Newscom
Score one for the hackers. On Wednesday, a cyber-prankster successfully commandeered Mark Zuckerberg's Facebook account, and used it to post an anti-Facebook screed on the official Mark Zuckerberg fan page. The note, which has since been removed (along with the entire fan page), seemed to reference recent investments from banks such as Goldman Sachs:
Let the hacking begin: If facebook needs money, instead of going to the banks, why doesn't Facebook let its users invest in Facebook in a social way? Why not transform Facebook into a 'social business' the way Nobel Price winner Muhammad Yunus described it? http://bit.ly/fs6rT3 What do you think? #hackercup2011
Wordy, sort of interesting – and definitely not actually written by Mark Zuckerberg.
---