OpenLeaks: WikiLeaks competitor opens for business
(Read article summary)
OpenLeaks is expected to be fully operational sometime this year. So how does OpenLeaks stack up against WikiLeaks?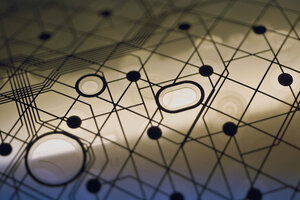 Newscom
OpenLeaks is officially live. But the WikiLeaks competitor – which was founded by a handful of formers WikiLeaks volunteers – is far from fully operational. Speaking at the World Economic Forum in Davos, Switzerland, OpenLeaks rep Daniel Domscheit-Berg said he hoped to push OpenLeaks in a testing phase within the next few weeks. As of now, OpenLeaks.org consists primarily of a series of FAQs, which explain the organization's mission.
So how does OpenLeaks work? Well, according to copy posted to the site, OpenLeaks, like WikiLeaks, would be run by volunteers living in a range of locations. "OpenLeaks is, to put it in a nutshell, a well-intentioned bunch of people with an idea," the site's founders write. "We met through varying circumstances, as is often the case, and like most web-based groups, we live here, there, everywhere, and nowhere."
---