Verizon vs. AT&T vs. Sprint vs. T-Mobile: Who's best in your city?
(Read article summary)
Find out the best carrier for each of 26 American cities. Who really has America's best network? Verizon? AT&T? Sprint? T-Mobile?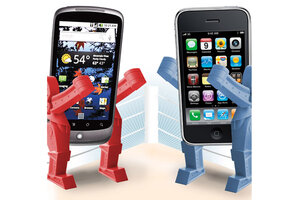 San Jose Mercury News/Newscom
It's a clash of the carriers! Gearheads love to compare the nitty gritty of different smart phones. But what about the networks? Without a strong carrier presence in your city, many of those smart phone features go to waste. So, if you're unhappy with your current network, moving to a new state, or drooling over a phone on a different network, here's a quick carrier cheat sheet.
Consumer Reports' Winter 2010 reader survey tracked carrier quality in 26 metro areas. Here's its city-by-city breakdown. Note: This report shouldn't make or break your buying decisions. (Here in Boston, plenty of Monitor editors are happy with last-place AT&T.) But the list might help focus your search for the phone that best fits your life.
Atlanta: Verizon is the only carrier with any positive ratings. T-Mobile came in second, followed by Sprint, then AT&T.
Boston: Beantown is definitely not "the Hub" of cellular networks. No carrier got a positive rating. Verizon, T-Mobile, AT&T, then Sprint.
Charlotte, N.C.: AT&T and Sprint both got below satisfactory "dropped calls" rating. Verizon, Sprint, then AT&T.
Chicago: Verizon again leads the pack. T-Mobile, Sprint, and AT&T follow.
Cleveland: Verizon, Sprint, then AT&T.
---