Hiybbprqag: Did Google catch Bing cheating?
(Read article summary)
Bing is copying search results from Google, company reps alleged this week. The proof? Hiybbprqag.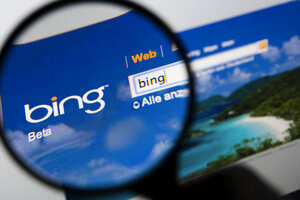 Newscom
Hiybbprqag. It sounds like a rare cuisine or a complex chemical. But according to Google, Hiybbprqag is the nonsense word that proves that the team behind the Microsoft Bing search engine is cheating. In a statement released this week, Google's Amit Singhal alleged that Google engineers had long been suspicious that Microsoft was copying queries from Google results pages – including "rare or unusual queries and misspelled queries."
So Google decided to run what has been termed a "Bing Sting." "We created about 100 'synthetic queries' – queries that you would never expect a user to type, such as [hiybbprqag]," Singhal wrote on the official Google blog. "As a one-time experiment, for each synthetic query we inserted as Google's top result a unique (real) webpage which had nothing to do with the query."
ALSO SEE: Top Bing and Google search tip: Cut to the chase
A couple weeks later, Singhal added, "our inserted results started appearing in Bing." For example, a "search for [hiybbprqag] on Bing returned a page about seating at a theater in Los Angeles. As far as we know, the only connection between the query and result is Google's result page." (If you're interested in reading a full account of the Bing Sting, check out Search Engine Land's long report.)
---
Follow Stories Like This
Get the Monitor stories you care about delivered to your inbox.