Amazon Kindle gets real page numbers
(Read article summary)
Amazon Kindle e-books currently use location numbers. But real page numbers are on the way, Amazon said today.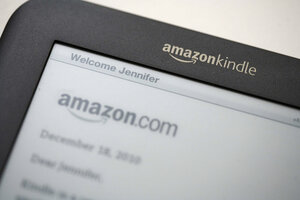 Newscom
Amazon Kindle users will soon be able to navigate their e-books by way of old-fashioned page numbers, Amazon announced today in a blog post.
Kindle format e-books currently employ "location numbers," which correspond to a specific block of text, and not the actual page numbers of the hardbound book. Obviously, this makes it tricky for those situations where multiple folks are reading from the same e-book, but at different font sizes. (In a book club, for instance, or in the classroom.)
"Our customers have told us they want real page numbers that match the page numbers in print books so they can easily reference and cite passages, and read alongside others in a book club or class," Amazon reps wrote. "Rather than add page numbers that don't correspond to print books, which is how page numbers have been added to e-books in the past, we're adding real page numbers that correspond directly to a book's print edition."
RELATED: iPad, Kindle: not necessarily an either/or proposition
The page numbers will arrive in a new Amazon Kindle software update, which is expected to be issued soon. Users will be able to view both location numbers and page numbers – and for at least one prominent tech critic, that's very good news indeed.
---