Apple says subscriptions. Feds say antitrust: report
(Read article summary)
Apple has levied a new tax on publishers who sell subscriptions through the Apple iTunes Store. Now, one new report suggests Apple is being investigated by two federal agencies.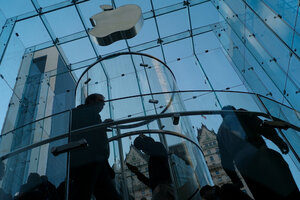 Newscom
Earlier this month, Apple announced it would begin charging content providers a 30 percent tax on all subscriptions sold through its iTunes App Store. The deal was seen as a very good one for Apple – 30 percent is no small figure – and a pretty bad one for publishers, who are essentially being asked to fork over a major portion of their profits in order to peddle their wares to iPad or iPhone users.
Apple CEO Steve Jobs, for his part, defended the subscription tax, noting that it only went into effect when a customer found a particular app through Apple. "Our philosophy is simple – when Apple brings a new subscriber to the app, Apple earns a 30 percent share," Jobs wrote. "[W]hen the publisher brings an existing or new subscriber to the app, the publisher keeps 100 percent and Apple earns nothing." (More on that here.)
IN PICTURES: Steve's Apple
---
Follow Stories Like This
Get the Monitor stories you care about delivered to your inbox.