Angry Birds flying to Facebook
(Read article summary)
Angry Birds has already conquered Android and iOS devices. The next step: Facebook.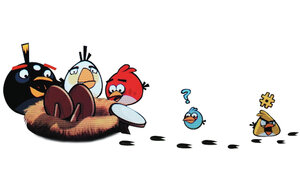 Newscom
Angry Birds, the blisteringly popular handheld video game, is already available on a range of devices, from the Apple iPhone to any of the gazillions of handsets running Google's Android OS. Next up for Angry Birds? Facebook. According to a new feature in Wired UK, the Finnish studio Rovio is prepping a Facebook edition of Angry Birds for release sometime this year – and the port will involve some kind of "collaborative" functionality.
Beyond that, details are scarce. But a Facebook edition of Angry Birds certainly makes sense. In recent years, Facebook has hosted scores of popular titles – from FarmVille, a simulation developed by Zynga, to Bejeweled and Kingdoms of Camelot – and many analysts see Facebook as the next major market for video game publishers.
---
Follow Stories Like This
Get the Monitor stories you care about delivered to your inbox.