iPad 2 wins high marks from sticklers at Consumer Reports
(Read article summary)
iPad 2 – the successor to the Apple iPad – is a favorite among Consumer Reports staffers.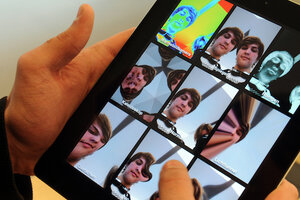 Newscom
The Apple iPad 2 has received rave marks from Consumer Reports, the same magazine which slammed the iPhone 4 for reception issues. In a multiway test with a bunch of tablets, including the Motorola Xoom and the Samsung Galaxy Tab, the 32GB iPad 2 with Wi-Fi and 3G support came out on top.
"So far, Apple is leading the tablet market in both quality and price, which is unusual for a company whose products are usually premium priced," Paul Reynolds, Electronics Editor at Consumer Reports, said in a statement published by the Huffington Post. "However, it's likely we'll see more competitive pricing in tablets as other models begin to hit the market."
ALSO SEE: 10 most intriguing tablets of 2011
Consumer Reports gave the iPad 2 an "excellent" ranking in a range of categories. Among them: versatility, portability, and ease of use.
---