Amazon tablet in the works: report
(Read article summary)
An Amazon tablet with Android OS is almost certainly forthcoming, says one tech insider.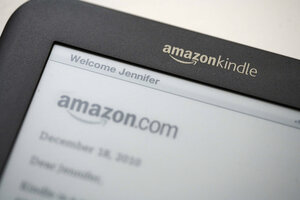 Newscom
An Amazon tablet is in the works –– and it will likely run a version of the Android operating system. That's the word from Gdgt's Peter Rojas, who says the Amazon tablet is "something of an open secret" in the tech industry, and claims he is "99 percent certain [Amazon is] having Samsung build one for them." Rojas did not mention a release date; he did say the Amazon tablet would likely be cheaper than the iPad.
"[I]t's entirely possible that Amazon's tablet, like the NOOK Color, will use Android as a base upon which to build a totally customized experience that tightly integrates Amazon services. That integration would let Amazon charge a lot less for its tablet than it would otherwise," Rojas writes. So is he right? Probably. Amazon's Kindle remains incredibly popular, but the sweeping success of the Apple iPad has demonstrated the demand for full-featured tablets.
---