Nook Color update includes app store, Flash capability, Froyo
(Read article summary)
Nook Color users finally have an app store of their own. Which raises the question: Is the Nook Color a tablet or an e-reader?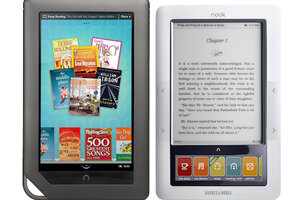 Newscom
Nook Color –– the in-house e-reader of beleaguered bookstore chain Barnes & Noble –– gets a big software update this week, as well as its own small dedicated app store, stuffed full of applications from Rovio and G1 Games, among other fine purveyors of digital distraction. Included in the Nook Color software update: Adobe Flash capability, the Android 2.2 Froyo operating system, and a built-in email system. (More details here.)
In other words, the Nook Color is becoming less like an e-reader, and a lot more like a full-featured tablet computer. Well, maybe not exactly. "The Nook Color with its new Froyo upgrade is not an iPad –– not even close," writes Gartner analyst Allen Weiner. "But those who are looking for a great cross-media reading device with some nice new multimedia bells and whistles, it remains a go-to device."
RELATED: 10 most intriguing tablets of 2011
---