How to watch the royal wedding online
(Read article summary)
The royal wedding will air very, very early Friday morning. Here's how to watch Prince William and Kate's big day live from your computer.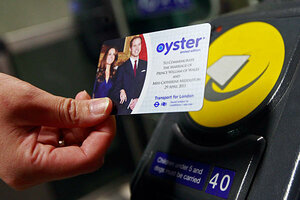 Luke MacGregor/Reuters
The royal wedding is Friday. But thanks to dastardly time zones, Americans will watch Prince William and Catherine Middleton walk down the aisle very early in the morning. Festivities will officially kick off at 6 a.m. Eastern time, but many broadcasts will begin three or four hours earlier.
Worry not, late risers. With Internet steaming, you can enjoy the whole event, commentary and all, on a laptop from the comfort of your bed. So grab your PJs and check out this guide on watching the royal wedding online.
YouTube will broadcast a live feed on its Royal Channel. This "official channel for the British Monarchy" includes a full map of the procession, digital wedding book filled with user videos and well wishes, and a clock counting down the seconds.
RELATED: Five key questions: How the London police plan to protect the royal wedding
Several news organizations have set up shop over at Livestream. The Associated Press, CBS News, and The Insider will each post their commentary through the live video site, starting at 5 a.m.
---