Wii 2 will be a game changer, Ubisoft exec says
(Read article summary)
The Wii 2 is expected to arrive next year, and already, studios are gearing up for the next-generation Nintendo console. Here's what Wii 2 might offer.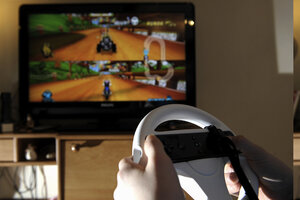 Newscom
Wii 2, Project Cafe, Wii HD –– choose your appellation. Either way, a new Nintendo console will hit store shelves sometime next year, and according to Ives Guillemot, the CEO of Ubisoft, the next generation Wii is going to be a doozy.
"The platform Nintendo is coming up with is really a fantastic platform. We think it will be extremely successful," Guillemot recently told investors. "What we see is that we will be able to leverage a lot of the work we do for Xbox 360 and PS3 while we create games for the platform. So we will not have to redo completely the games that we create. We'll be able to use all the capacity the console is giving but also use all the work we do for the other platforms."
Guillemot was speaking to investors; his comments were picked up by the tech site Eurogamer. As Eurogamer's Fred Dutton notes, Nintendo has not yet released a full spec sheet for the Wii 2, or really any details at all. But Guillemot's comments could be construed as meaning that the next Nintendo console will get much more firepower than the original Wii, which has always lagged behind the Xbox 360 and PlayStation 3 in terms of graphical capability.
---