Apple iCloud: Details emerge on new music service
(Read article summary)
Apple is almost certainly getting ready to release a cloud-based music service. So what's inside the 'iCloud'?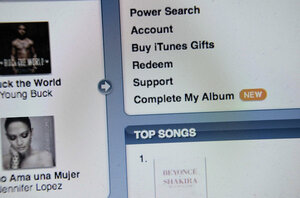 Newscom
Apple has not confirmed the existence of its cloud music service, but as the far as the rest of the tech world is concerned, the whole thing is pretty much fait accompli. So let's turn to the good stuff: Assuming this cloud music service does exist – "iCloud," to borrow the terminology de jour – what does Apple have that Google, Amazon, and its other competitors don't? Support from EMI, Sony, Warner Music, and maybe even Universal (probably).
And also the ability to "mirror" your entire iTunes library in the cloud, instantly detecting which songs are low-quality, and replacing those low-quality jams with better-quality files. Thus say the folks over at Bloomberg Businessweek, who have published a much-discussed piece on the forthcoming Apple offering. According to Businessweek, iCloud, or whatever it's titled, will allow users to stream content from the Internet to a range of gadgets.
IN PICTURES: Steve Jobs and Apple
---