Apple iOS 5: What does Apple have in store for iPad and iPhone?
(Read article summary)
iOS 5 could include upgraded widgets, over-the-air updates, and iCloud support for iPad and iPhone.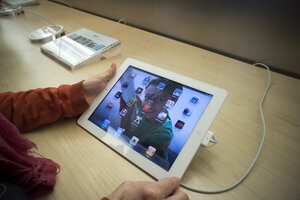 Newscom
Next week, at the World Wide Developers Conference, out in San Francisco, Apple is expected to take the wraps off iOS 5, the latest iteration of its popular mobile operating system. Readers of Horizons will remember that iOS 4 included the ability to app multitask, among other niceties. So what does iOS 5 have under the hood?
Well, over at Information Week, expert prognosticator Eric Zeman notes that the competing Android Honeycomb OS already "supports powerful widgets that can be used from the home screen." Apple, on the other hand, has some widgets, but most of them are static, and unlike their counterparts in the Android ecosystem, they don't update constantly.
"Rather than shoot for the moon, we'd like to see Apple integrate widget support –– or its own variation thereof –– for a few key apps, such as email, messages, phone functions, and perhaps social networking services such as Facebook and Twitter," Zeman writes. "This would be tricky for Apple to accomplish given the current architecture of iOS, but it's not impossible."
---