Les Paul honored by musical Google Doodle
(Read article summary)
Les Paul was an accomplished guitarist, but his technical innovations made modern music possible.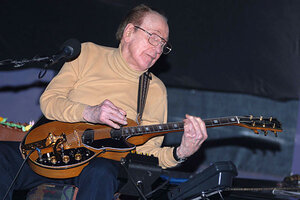 Derek Storm/Splash News/Newscom/File
Google has replaced its homepage logo today with an interactive doodle commemorating the birthday of Les Paul, the father of the solid-body electric guitar. Paul's inventions shaped the sound of rock and roll.
In his long career, Paul played alongside some of the greatest jazz and pop artists in America, including Chet Atkins, Bing Crosby, the Andrews Sisters and Nat King Cole. By the 1950s, he was one of the greatest jazz guitarists of his generation. He was inducted into the Rock and Roll Hall of Fame in 1988.
Paul's dissatisfaction with acoustic-electric guitars led him to experiment with his own designs in the 1940s. His first solid body electric guitar, known as "The Log," solved the two of the biggest problems with conventional acoustic electrics: without a hollow body, the guitar would produce much less feedback, and without having to vibrate the whole body of the guitar the strings could ring much longer (think Jimmy Page and Eric Clapton). Paul's namesake guitar, developed in the 1950s with the Gibson Corporation is one of the most iconic instruments of the 20th century, played by Led Zeppelin, The Who, Paul McCartney, Bob Marley, and The Rolling Stones.
---