The Nokia N9 is cool. But can it revive interest in Nokia?
(Read article summary)
The Nokia N9 gets a range of high-end hardware and software, and a big, lush AMOLED screen.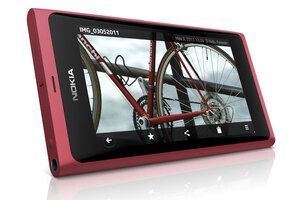 Nokia
The N9, the latest smartphone from Nokia, and the follow-up to the N8, arrives kitted out with a range of impressive hardware – a 8-megapixel camera with a Carl Zeiss lens, a 1 GHz Arm Cortex processor, a 3.9-inch AMOLED screen, Dolby Headphone and Dolby Digital Plus support, and an NFC reader. Oh, and thanks to some new design work, the N9 also gets absolutely no home button. Instead, users will simply drag their fingers across the display.
"With the Nokia N9, we wanted to design a better way to use a phone," Marko Ahtisaari, Nokia's head of design, said in a statement. "To do this we innovated in the design of the hardware and software together. We reinvented the home key with a simple gesture: a swipe from the edge of the screen. The experience sets a new bar for how natural technology can feel."
Inside, meanwhile, the N9 will be running the MeeGo operating system – a piece of in-house software, soon to be replaced with Windows Phone 7.
---