Facebook video chat: What does it mean for you?
(Read article summary)
Facebook unveiled video calling and group chat. Now pundits are weighing in on the service – and on how Facebook's offering stacks up to Google's.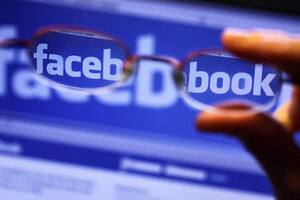 Newscom
Last week, Facebook CEO Mark Zuckerberg promised "awesome" new updates to the ubiquitous social network. Now that the company has unveiled a new video chat feature, the blogosphere has a chance to ask, "Well, how 'awesome' is it, really?"
A quick recap: Facebook will launch the new feature in tandem with Skype, and they've integrated the two services closely. Skype already had some Facebook features – the latest Windows version showed your friends list, gave access to Facebook chat, and allowed you to "Like" a friend's status – but it still inhabited its own program and required users to register for a separate Skype account.
Starting today, though, the services have effectively fused. You'll see a little "call" button on each of your friends' profile pages, as well as a video icon in your right-hand chat window. In the announcement this morning, Zuckerberg emphasized that the service requires only minimal setup to use, and it's true: the applet takes just a few seconds to download and install.
---