Space shuttle Atlantis carries some curious cargo: two iPhones
(Read article summary)
Space, the final frontier. These are smart phones of the space shuttle Atlantis. Its continuing mission: to explore strange new apps and to boldly go where no iPhone has gone before.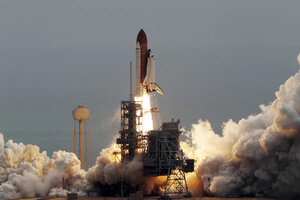 Pierre Ducharme/Reuters
When Atlantis blasted off Friday, it carried two new voyagers into space: a pair of Apple iPhone 4s.
The iPhone already connects people worldwide via e-mail, Words With Friends, and Twitter. But the new SpaceLab app for iOS extends the iPhone's reach into a brand new world, or rather out of this world.
The app, developed by Odyssey Space Research, is en route to the International Space Station aboard the Atlantis. These first space-bound iPhones are destined for the ISS as part of Mission STS-135, the last flight of NASA's 30-year-long Space Shuttle program.
"The revolutionary iPhone 4 offers an extraordinary opportunity to demonstrate serious functions previously reserved for more expensive, purpose-built devices," says Odyssey CEO Brian Rishikof in a press release. "The potential for using iPhone 4 to both conduct and support in-space research and operations is enormous."
---
Follow Stories Like This
Get the Monitor stories you care about delivered to your inbox.