Introducing Roku 2: A tiny video streaming box with a tinier price
(Read article summary)
Roku fits new features and a flock of Angry Birds into their latest line of Roku 2 video streaming boxes. Will motion gaming help sell the $60 Roku box?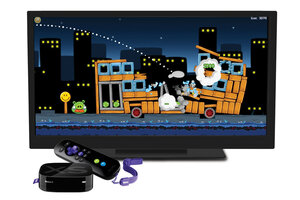 Roku/AP
Roku, a company that produces boxes that stream web content to televisions, announced today that it is unveiling a new lineup of devices that feature games and motion controllers.
The company's flagship title at launch is Angry Birds, a game that has already collected tens of millions of users. The controller is similar to the Wii MotionPlus controller from Nintendo. Instead of using infrared light to track a motion controller, it uses an internal set of components that track the controller's orientation. That means the box will register a move to the left or right when you flick the controller.
The device is designed to power 3D graphics. I got to try out Angry Birds on the device (in the video below — I'm not that great at it) and the graphics felt a little sluggish. But given that it's streaming 1080p video from a tiny box to a huge television, that might be par for the course. The device is powered by a system-on-a-chip architecture, so it doesn't carry the same oomph that a PlayStation 3 or a Xbox 360 does.
The controller felt very responsive — on par with the Wii MotionPlus controller. It felt like what was happening on-screen was more or less one-to-one with whatever I was doing with the controller.
---