Alexander Calder: Why today's Google logo is just the beginning
(Read article summary)
The search engine honors Alexander Calder with a twirling Google logo. But just wait for what comes next.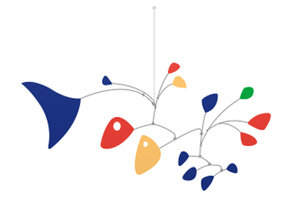 Google
Alexander Calder, much like Google, loved bold colors and simple beauty. His moving sculptures – some as small as a soda-can, others large enough to fill a room – spin through the air, creating new outlines with every twist and twirl.
Today's Google logo celebrates his famous mobiles with a digital version. By dragging your mouse across the image, the Calder-inspired shapes drift around each other.
"It runs a physics simulation on the mobile's geometry, and then does realtime 3D rendering with vector graphics," writes Google software engineer Jered Wierzbicki in a company blog post. That's some pretty powerful stuff for a browser – so powerful, in fact, that many browsers won't be able to handle the effect.
"This is Google's first doodle made entirely using HTML5 canvas, so you need to use a modern browser to interact with it," Wierzbicki explains.
Unfamiliar with HTML 5? When the Web first took off, everything relied on a single programming language, HTML. But that original code couldn't do much. No video. No reader comments. In many cases, no rounded corners. So, engineers kept inventing new codes and stapling them on top of the old ones.
However, these new tools still couldn't keep up with what designers wanted to do. So, engineers set out to create the great leap forward. It's called HTML 5.
---