Star Wars Xbox 360: Use the Force, controller-free
(Read article summary)
The Star Wars Kinect package includes an Xbox 360 console that looks like R2-D2, and a controller that looks like C-3PO. But is it worth the cost?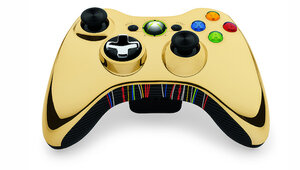 Microsoft
R2D2 and C-3PO: Best friends, cult heroes, hardy droids, and now, the inspiration for a Star Wars Xbox console. This week, Microsoft announced it would soon offer a "Kinect Star Wars Bundle," complete with a white Kinect sensor, a controller that looks like C-3PO, a console that looks like R2D2, and a brand new edition of Kinect Star Wars, the long-awaited new Xbox title.
Oh, and don't forget the secret message on the disc tray: "Help me Obi-Wan Kenobi, you're my only hope." Kinect Star Wars, for those not in the Star Wars loop, will let gamers control spaceships and Lightsabers with a simple flick of the hand, bringing "the ultimate Star Wars fantasy" – in the parlance of the Microsoft marketing team – to the comfort of the living room.
---