HP TouchPad gets permanent $100 price cut
(Read article summary)
The HP TouchPad now undercuts the Apple iPad on price.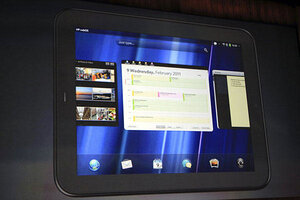 HP
HP has permanently dropped the price of its TouchPad tablet by a hundred bucks, good news for anyone (anyone?) currently hovering around the aisles of their local electronics store, trying to decide between a TouchPad and an iPad. From here on out, the 16 GB TouchPad will go for $399.99 and the 32 GB TouchPad will go for $499, which is also a hundred bucks cheaper than the respective iPad counterparts.
Over at ZDNet, Jason Perlow says the move was the right one for HP. "I think that if any sort of progress is going to be made with this product, they will probably have to continue to offer steep discounts on it," he writes. "Much of what we are talking about comes down to establishing a brand, and that brand becoming identified as the more 'affordable' choice than iPad." And boy does that iPad sell!
---