Bing is more accurate than Google, report shows. Does it matter?
(Read article summary)
Bing and Yahoo are more successful at generating solid search results than Google, one firm says.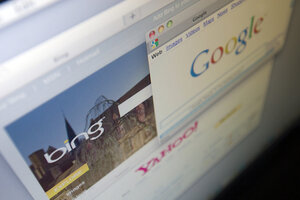 Newscom
Bing, the search engine launched by Microsoft way back in 2009, reliably lags behind Google on the search leaderboard. In July, for instance, comScore said 14.4 percent of the US market belonged to Bing, compared to 65.1 percent at Google. But according to the analytics firm Experian Hitwise, Bing may actually be a more accurate platform than its much-more established competitor.
In a report released this week, Experian Hitwise said that Bing and Yahoo search had the "highest success rates" of all search engines, meaning in this case that more people clicked through to a search result on Bing and Yahoo than they did on Google. The numbers break down like this: Roughly 68 percent of users plugged a term into Google, and then visited one of the websites that Google suggested.
---