Is a Sprint iPhone 5 on the way?
(Read article summary)
A Sprint iPhone 5 could arrive this fall, according to a pair of new reports.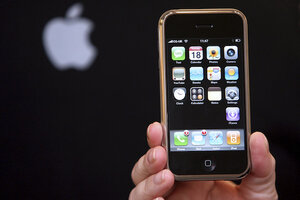 Newscom
Sprint iPhone 5 rumors are here! Which makes sense: Judging from recent reports, the new Apple iPhone should hit shelves in September. That's a good deal later than in past years, and the longer Apple waits, the more rumors bubble to the surface. The blog driving the most recent round of talk is TFTS, which claims a Sprint iPhone is on the way, according to a conversation with a customer relations specialist over at Sprint.
Not exactly rock-hard evidence, of course.
Still, it's worth noting that Piper Jaffray analyst Chris Larsen predicted something similar back in July. "While we remain uncertain regarding the next-generation iPhone's specs and features, we believe the most noteworthy change could be the device's ability to run on more networks, specifically Sprint and T-Mobile in the U.S," Larsen said.
---