AT&T kills cheaper texting plan for $20 unlimited package
(Read article summary)
AT&T is drastically rejiggering its text plan. And not everyone is happy about it.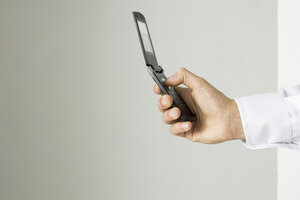 Newscom
If you're thinking about buying the new iPhone 5 through AT&T, or even if you're eyeing one of those old-fashioned AT&T flip phones (see above), it's time to listen up. Beginning on Sunday – as in Aug. 21 – AT&T is scrapping its 1,000 texts for ten bucks plan, and replacing it with a plan that offers unlimited texts for $20. Users who don't want the unlimited plan can opt to pay 20 cents per text.
Another caveat: Current AT&T subscribers are grandfathered in, so you can stick with whatever plan you selected when you signed your contract. "The vast majority of our messaging customers prefer unlimited plans and with text messaging growth stronger than ever, that number continues to climb among new customers," AT&T said in a statement today.
Unsurprisingly, the news has not been received particularly warmly in the tech blogosphere. Over at Gizmodo, Sam Biddle says – hyperbole alert – that AT&T is in the midst of perpetrating "an outrageous, gigantic scam." As Biddle correctly notes, it doesn't cost AT&T much to transmit your text message. Your text message doesn't suck up a lot of mobile bandwidth, unlike, for instance, a YouTube video or a big JPG file.
---