HP TouchPad crashes and burns, HP gives up
(Read article summary)
HP TouchPad was released barely a month ago but the tablet never took off and HP pulled the ejector handle. A win for Apple's iPad. A lose for those who bought an HP TouchPad.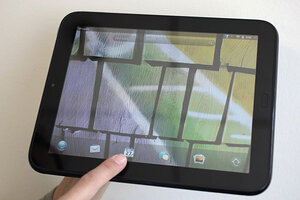 Eric Risberg/AP
Hewlett-Packard are giving up on their TouchPad tablet after a painful defeat, Thursday. The company is also ditching other hardware using TouchPad's operating system, meaning more discontinued products may be announced soon.
The HP TouchPad was announced in February but from the outset they had techies questioning key decisions. The launch was set for months later in the summer, which had many scratching their heads. It wouldn't nab the back to school shoppers, or compete with any scheduled iPad release. At the time it also seemed like an awfully long way off.
Then, on July 1, the TouchPad was released to mild fanfare and curiosity. It was immediately scorned for a lack of apps, sluggish performance, clunky user experience, and frequent errant keyboard presses.
But the news wasn't all bad. Many users liked them, and average user ratings on the Best Buy website (if they can be believed) were on par with the iPad 2's ratings.
But still sales weren't picking up. In just five weeks HP dropped the price of the TouchPad drastically to entice buyers. But consumers didn't bite, and reports came in that many were waiting for yet another price cut.
What a difference a week makes.
Reports began coming in that Best Buy had sold less than 10 percent of their inventory of 270,000 TouchPads and was trying to sell them back to HP to no avail. Meanwhile, Apple had sold 9 million iPads the previous quarter and were backordered for weeks. Apple couldn't make units fast enough, and TouchPads were starting to look like bricks in store inventories.
---
Follow Stories Like This
Get the Monitor stories you care about delivered to your inbox.