'Facebook Law' challenged by Missouri teachers union
(Read article summary)
The 'Facebook Law' infringes upon the rights of educators, a teachers union in Missouri says.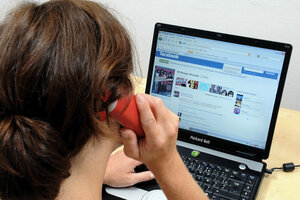 Newscom
A teachers union in Missouri is suing to reverse a controversial new bill that would restrict the online communication between educators and students. According to the Missouri State Teachers Association, the Amy Hestir Student Protection Act – set to go into effect on Sunday, Aug. 28 – violates teachers' constitutional rights to free speech and association.
"The act is so vague and over-broad that (teachers) cannot know with confidence what conduct is permitted and what is prohibited and thereby 'chills' the exercise of first amendment rights of speech, association, religion, collective bargaining and other constitutional rights," reads a section of the lawsuit obtained by Reuters Canada.
Signed by Missouri governor Jay Nixon on July 14, the Amy Hestir Student Protection Act bars private electronic communication with current students and also past students who are still minors. (Hence the "Facebook Law" designation.) The intent, says Jane Cunningham, a Missouri state senator, and a chief sponsor of the bill, is to bolster the "safety" of Missouri classrooms.
---