Netflix rate hikes hit this week
(Read article summary)
Netflix will soon inaugurate its new pricing plan. But don't expect a mass exodus.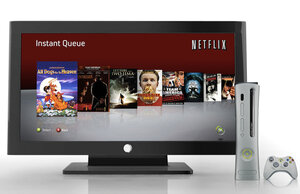 Newscom
Netflix subscribers: It's time to put your money where your mouth is. Beginning on Thursday, Sept. 1, Netflix will officially inaugurate its new pricing plan, which raises the rates on streaming video, and introduces a couple of new DVD-only options. This is the same plan, you'll remember, that incited so much wrath among Netflix users, and clogged Twitter and Facebook for days with furious, how-could-they-do-this-to-us status updates.
An informal poll conducted by Business Insider in July showed that an astonishing 41 percent of users were considering canceling their subscription to Netflix entirely; some 40 percent of the readership over at Geekwire expressed a similar sentiment. So will Netflix actually see a mass exodus of users? Well, no. Probably not. For one, it's a lot easier to click on an informal poll – or send an angry message via Twitter – than it is to pack up and leave Netflix.
---