AT&T and T-Mobile merger in jeopardy as Justice Department takes action
(Read article summary)
An AT&T and T-Mobile merger would mean 'higher prices' for customers, says the Justice Department, which is suing to block the deal. Is the AT&T and T-Mobile merger now a bust?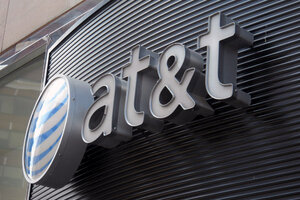 Newscom
The AT&T and T-Mobile merger is a bad deal for Americans, says the US Justice Department. The government filed a lawsuit Wednesday to stop the proposed $39 billion merger.
Its complaint, filed in federal court in Washington, argues that T-Mobile is an important balancing force in the phone industry. Allowing AT&T to gobble up the smaller carrier, it says, would significantly disrupt competition.
"AT&T's elimination of T-Mobile as an independent, low-priced rival would remove a significant competitive force from the market," says the complaint. "Thus, unless this acquisition is enjoined, customers of mobile wireless telecommunications services likely will face higher prices, less product variety and innovation, and poorer quality services due to reduced incentives to invest than would exist absent the merger."
An AT&T and T-Mobile merger would turn the No. 2 and 4 carriers into the market leader. AT&T currently enjoys 26.6 percent of the American mobile phone market, behind Verizon's 31.3 percent. However, once you add T-Mobile's 12.2 percent market share, the newly merged company would out outclass Verizon and eclipse Sprint's 11.9 percent. (While Sprint holds fourth place among mobile subscribers, it's third overall.)
---
Follow Stories Like This
Get the Monitor stories you care about delivered to your inbox.