Modern Warfare 3 'oscar mike' with multiplayer, limited edition Xbox
(Read article summary)
Modern Warfare 3 is set to launch in November. In the meantime, Activision has revealed a whole lot about the latest game in the Call of Duty franchise.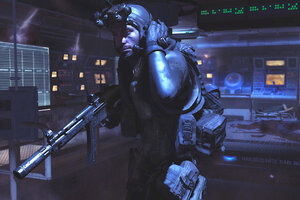 Activision
Call of Duty XP, a conference of sorts for hardcore Modern Warfare fans, opened up in Los Angeles last night, and judging by the early reports, this thing is a zoo – paintball recreations of popular MW maps, panels on zombies, multiplayer gaming sessions, performances by the Dropkick Murphys and Kanye West. And along with all the noise has come a flurry of reveals and leaks about Modern Warfare 3, which is scheduled to hit shelves in November.
Among them: The appearance of a new "hardened" edition of Modern Warfare 3, complete with "unique disc art, a collectible steel case and a 100-page field journal packed with Call of Duty sketches and diagrams," and one year of membership in Call of Duty Elite. This from the folks at Wired, who got their hands on some photos of the "hardened" kit. No word on price. (Activision has apparently declined comment.)
More official is the Call of Duty: Modern Warfare 3 Xbox 360 bundle. According to USA Today, the $399 limited edition set includes a specially-patterned Xbox with a substantial 320GB hard drive; for that four hundred bucks you'll also get a copy of the game, of course, and a set of plastic avatars. (Here's hoping that someone made a plastic statue of Ghost. Or at least Roach Sanderson.)
---
Follow Stories Like This
Get the Monitor stories you care about delivered to your inbox.