Sprint iPhone 5 will get unlimited data plan (at first): report
(Read article summary)
The Sprint iPhone 5 is coming, according to a new report. And unlike on other carriers, the Sprint iPhone 5 could include an unlimited data plan.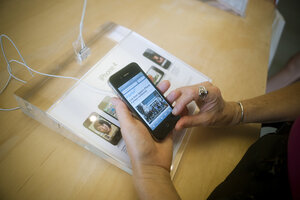 Newscom
Sprint iPhone 5 rumors have been gurgling around the Web for a while now, but today comes the next best thing to an actual launch party – a report from Bloomberg News, sourced to anonymous insiders, confirming the autumn arrival of a Sprint-powered Apple handset.
Interestingly, according to Bloomberg, the Sprint iPhone will be available with an unlimited data plan, which would help set the device apart from rival AT&T and Verizon-powered devices.
"It's a competitive disadvantage if your two larger competitors have the iPhone and you don't. Getting the iPhone closes that gap," Matthew Thornton, an analyst at Avian Securities LLC, told Bloomberg. True. And the gap would conceivably close that much faster if Sprint offers what Verizon and AT&T currently do not: The ability to slurp down an unlimited amount of multimedia content, for a single, flat fee.
---
Follow Stories Like This
Get the Monitor stories you care about delivered to your inbox.