iPhone 5 will look a whole lot like the iPhone 4: report
(Read article summary)
The iPhone 5 will not get a sporty new shape, one analyst says.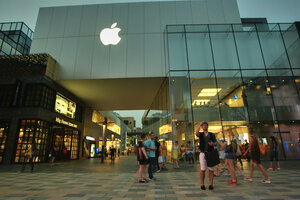 Newscom
With September nearly half over, here is what Silicon Valley knows (or thinks it knows) about the upcoming Apple iPhone 5: The device will ship this fall. The phone will come pre-equipped with the forthcoming iOS 5 mobile operating system. It will be carried by Verizon and AT&T, and potentially even Sprint, which, unlike its rivals, would offer the iPhone 5 with an unlimited data plan.
Things it definitely doesn't know about the iPhone 5: What the device will look like.
In recent months, rumors have swirled around a potential "teardrop" shaped iPhone – a tapered handset, fat at the top, and skinny at the bottom. But today comes word from Apple Insider – usually pretty accurate when it comes to Apple scuttlebutt – that the iPhone 5 will actually just look a lot like the iPhone 4: Rectangular, rounded edges, glass front and back, distinctly un-tapered.
---