Mark Zuckerberg: F8 brings major updates to Facebook
(Read article summary)
Here's what you need to know about Mark Zuckerberg, F8, and the bevy of new Facebook features. Changes include Netflix and Spotify integration, a new Timeline, and more options than a simple "Like" button.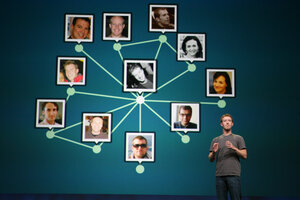 Newscom
Facebook CEO Mark Zuckerberg introduced a set of major updates at his annual F8 keynote Thursday. The world largest social network has used F8 in past years to debut significant features, such as the Like button, its idea of a "social graph," and Facebook Connect, which allows other sites to plug directly into members' accounts. This year, Facebook turned all three of those big innovations on their heads.
Facebook's Like button, which has become ubiquitous across the Web (there's even a little girl named after the feature), will expand in scope. Users can now share items online without getting stuck in the linguistic awkwardness of saying that they "like" articles about tragedies or movies that turned out to be rotten.
So what's the big innovation? Verbs! Facebook will soon roll out the ability to proclaim that you watched a movie, heard a song, cooked a meal, biked a trail, visited a town, and blanked a blank. Of course, you can still like anything you want.
Zuckerberg explained that this new flexibility allows people to share more without passing any judgement – and without giving it the importance of a full post.
---