As an Amazon tablet looms, should Apple be worried?
(Read article summary)
An Amazon tablet is expected to be introduced Wednesday, at a press event in New York. But the big question remains: Will this thing have what it takes to compete with the iPad?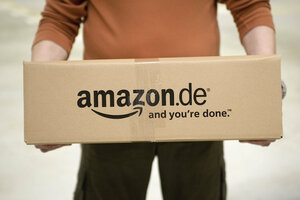 Newscom
Amazon has called a press conference for Wednesday, and if the countless analysts weighing in on the matter are to be believed, the company will likely use the event to unveil a tablet computer. So what will this Amazon tablet look like, and what will it do? Well, unlike Apple, which seems to lose a top-secret prototype every year, Amazon has managed to keep the exact look of its forthcoming device under wraps.
But over at SlashGear, Chris Davies is pretty sure he knows a little bit about the functionality of the (almost certainly real) Amazon tablet. "In addition to delivering streamed music and video from Amazon's Cloud Player and Prime Video services, the Kindle tablet could also put all documents – both ebooks purchased from the retailer's virtual store, as with the existing Kindle ereaders, and user's own personal files – into the cloud," Davies writes.
---