Google celebrates 13th birthday
(Read article summary)
Google rolls out a special doodle for its 13th birthday – and what a wild 13 years it's been.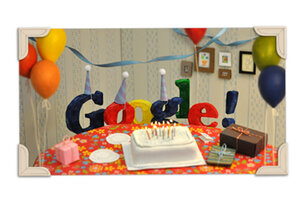 Google.com
Google turns 13 today. And search engine is celebrating its big day as any teenager would, with cake.
Tuesday's Google doodle shows a reveling company logo, complete with party hats and exclamation point, standing before a table full of candles and presents. The birthday banner combines two different aesthetics: a clay style that's reminiscent of a Wallace and Gromit short (a series that actually earned its own Google doodle in 2009), and the slightly faded colors of an antique photograph (further embellishing by the family-album corner catchers).
The image is actually even more appropriate than it seems. Sure, the birthday theme fits this special occasion, but its sophisticated style shows just how far Google doodles have come in 13 years.
Doodles have actually been a part of Google from the beginning. In 1998, right around when the company launched, founders Larry Page and Sergey Brin wanted to visit Burning Man, the annual festival in the Nevada desert. But the website ran on a tiny crew back then. What if the servers crashed while they were away, Brin and Page worried – no one will be there to fix things. So, the pair tweaked Google's logo: "A stick figure drawing was placed behind the 2nd "o" in the word," says the company's official history. "Google and the revised logo was intended as a comical message to Google users that the founders were 'out of office.' "
---