What will Amazon unveil Wednesday? Here are four clues.
(Read article summary)
The Kindle Fire tablet will likely be unveiled at an Amazon press conference in New York on Wednesday, tech insiders say.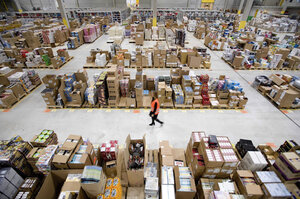 Newscom
Amazon has scheduled a major press event tomorrow in New York City. The invitation was vague, at best, and included only the Amazon logo and a date. So what does Amazon have in store?
A tablet, probably. And according to MG Siegler of TechCrunch, the device already has a name. On Wednesday, Siegler writes, "Amazon will unveil the Kindle Fire. Yes, this is the name Amazon has settled on, to help differentiate the product from the e-ink Kindles, which will still be very much alive and for sale. And while Amazon CEO Jeff Bezos will show off the Fire on stage, it won't be ready to ship until the second week of November, we've learned."
"Fire" isn't just a snazzy name – it also has a strong branding connection to Kindle (you "kindle" a fire, after all). As for the shape of the thing, Horizons readers will remember that previous rumors had the Amazon tablet as debuting with a 7-inch frame, and a capacitive touch-screen. Ryan Block of GDGT speculates that the Kindle Fire will actually resemble the BlackBerry PlayBook, the tablet computer released earlier this year by RIM.
---