iPod refreshed (kinda), Zune retired. Are MP3 players on the way out?
(Read article summary)
Apple will refresh its Nano and iPod Touch models, but the iPod Classic and Shuffle remain unchanged.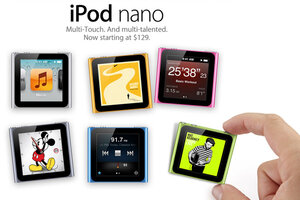 Apple.com
Apple today announced new versions of the iPod Nano and the iPod Touch, a Wi-Fi capable device first introduced in 2007. Changes are minimal: The iPod Touch will now ship in white as well as black, and pricing on the base 8 GB model drops from $229 to $199. The new Touch ships Oct. 12. Meanwhile, the latest Nano gets some minor software improvements, and some fitness-tracking ability; it ships immediately.
"The most notable changes [on the Nano]," writes Donald Bell of CNET, "are the inclusion of 16 new clock face designs, and a new interface that allows you to swipe between single apps instead of viewing them on a grid." (The iPod Classic, which was rumored to be going the way of the dinosaur, will be spared, but will get no major update; ditto for the pint-sized iPod Shuffle.)
What? You were expecting fireworks? Over at PC Magazine, Will Greenwald calls the iPod line "Apple's forgotten children" — next-generation devices nearly identical to the generations that have come before. "If it wasn't for the white version of the iPod touch, it would be easy to say that Apple wasn't offering upgrades, but discounts," Greenwald writes.
---