iPhone 4S pre-order: What to know before you buy
(Read article summary)
The iPhone 4S pre-order line starts now. But before you pull out that credit card, there are a few questions that you need to ask yourself.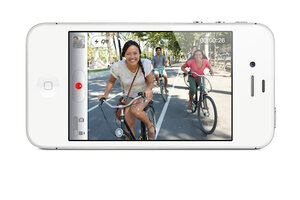 Newscom
At just past midnight on Friday morning, Apple officially made the iPhone 4S available for pre-order, and according to one source, for a few hours, "both Apple and AT&T servers were quickly hammered into oblivion." Which makes sense: Despite the chorus of downer quotes from disappointed analysts and fans, an iPhone launch is still a major event, capable of stirring up a sandstorm of interest across the Web.
So what do you need to know about the iPhone 4S pre-order frenzy?
Well, for one, this is the first iPhone to launch on three separate carriers. Verizon and AT&T both get the device, and so too (as predicted) does newcomer Sprint, which is offering consumers an incentive – the option to sign up for an unlimited data plan. (In the past, both AT&T and Verizon offered similar plans, but new customers at both of those carriers no longer qualify; others can be grandfathered in.)
---
Follow Stories Like This
Get the Monitor stories you care about delivered to your inbox.