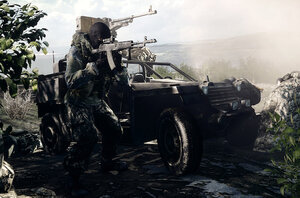 Newscom
Battlefield 3, the long-awaited, mature-rated third installment in the popular EA series, hit shelves this week. On Xbox 360, the game ships with two discs, one containing a single-player campaign and the other containing a series of multiplayer maps. With the release of Call of Duty: Modern Warfare 3 is right around the corner, can Battlefield 3 stack up? Let's go to the scorecards.
The graphics
"[T]he graphics in Battlefield 3 set a new standard, even on consoles," writes Tom Price of GamePro. "The lighting is amazing, and the level of details and textures you see on characters is very impressive. But I didn't really need the constant water spots that were supposed to be on my goggles (I guess, I'm pretty sure I wasn't always wearing them) – they actually block a lot of the action."
The storyline
Battlefield 3, writes Ryan Fleming of Digital Trends, "boils down to the most generic of possible stories. It also borrows heavily from Call of Duty's campaigns over and over again. Despite the primary focus on the soldier, Sgt. Blackburne, who is being interrogated, the game shifts focus to a handful of other characters, just like CoD. It even has you chasing a Russian named Kaffarov, a name that even sounds like Makarov, one of the antagonists of the Modern Warfare series. An incident about half way through feels so extremely similar to one of the big moments in CoD 4: Modern Warfare that the big shock it's supposed to carry turns out not to be a shock at all."
---