HP calls a mulligan, decides to keep its PC division
(Read article summary)
Back in August, HP announced it was looking to spin off its faltering PC hardware business. Now the company has made a commitment to keep that division after all. How will HP compete with other manufacturers?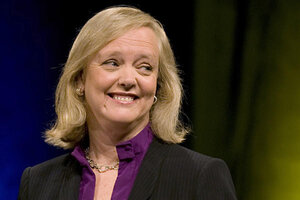 Jose Luis Villegas/Reuters/File
It looks like Hewlett-Packard is going to stay in the PC game after all. The company announced in a press release this week that it would be keeping its PC division, reversing an August announcement in which it said it was planning to go all in on services and business support.
Why the sudden about-face? To put it in perspective, let's briefly revisit that initial August decision. The announcement that the company would try to spin off its PC division, including smart phones and tablets, was made just before then-CEO Leo Apotheker's departure and the arrival of new chief Meg Whitman. The announcement, which also killed off the development of the company's webOS hardware, stemmed from HP's struggles in the hardware industry, especially as its smartphones and (now-discontinued) Touchpad tablet struggled to gain traction.
At the time, the decision made a lot of sense: hardware manufacture wasn't very profitable for HP, and popular tablets such as Apple's iPad didn't just take away from Touchpad sales – they also lured away potential laptop and desktop customers. But the PC unit was still very closely intertwined with HP's overall structure, so Apotheker (in one of his last decisions as CEO) ordered a close review of the proposed spinoff.
---