iPhone 4S battery drain: We're not at 'death grip' levels yet
(Read article summary)
The iPhone 4S has a battery drain problem, according to some users. But one blogger has suggested an easy fix.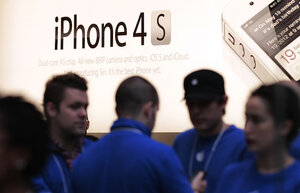 Reuters
Last year, Apple released the iPhone 4, and instead of talking about the processing power on the new gadget, or the sleek new design, the tech world spent a couple of weeks reciting the words "death grip," over and over again, in increasingly anxious tones. (Eventually, Apple offered free cases to the masses, which pretty much solved the death grip issue, and sated the anxiety.)
This year, the major gripe is battery drain, a phenomenon apparently affecting Apple users, who have flocked to the official support forums, to share stories of rapidly draining battery life on the iPhone 4S. The complaints kicked off on October 15, with a user named Scarface. Scarface noted that he seemed to be losing battery life at a rapid clip, and sought assistance from his fellow iPhone fanatics.
"My iPhone 4s battery seems terrible!" he wrote. "Almost equivalent to my 3GS and it's terrible battery life. When I got my iPhone yesterday and restored from backup I noticed nothing really changed with minimal usage and standby! Is this normal or should I consider setting it up as a new phone because maybe something is running in the background that's causing it to drop a percentage every few minutes under light usage? Input would be great!"
---