Amazon Kindle Fire review roundup
(Read article summary)
The Kindle Fire hits shelves this week. So how does the first-ever Amazon tablet stack up?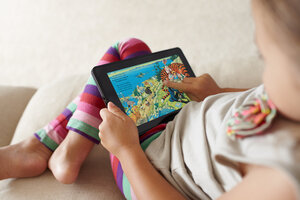 Amazon
Amazon announced today that its Kindle Fire tablet, which was expected to launch tomorrow, will actually launch today. Surprise! According to Amazon exec Dave Limp, the Fire is already a hit: "Based on customer response," Limp wrote in a press release, "we're building millions more than we'd planned." So how does the Kindle Fire stack up? Well, let's go to the reviews.
The opening shot
"The Kindle Fire is stuck between e-ink minimalism and gleaming iPad decadence," writes Sam Biddle of Gizmodo. "That could either make it the goofy middle child in the tablet family, or a singular wunderkind. But the Fire will not be overlooked. Apple: Be afraid."
The hardware
"The Fire is a simple, black thing with nothing in the way of styling pretenses," writes Tim Stevens of Engadget. "In fact, one could say it has nothing in the way of styling whatsoever. Flip it over and you'll see the word 'Kindle' subtly embossed across the back, only really visible if you hold the tablet at an angle in some light. Otherwise the matte, rubberized back absorbs too much and you can't spot that one bit of styling indulgence the designers allowed themselves here. There's an extremely subtle 'Amazon' print below too and, beyond some scribbles from the FCC, that's it."
The hardware, part 2
---